e-Admit cards for CSIR NET 2013, Hall Tickets download from December 22nd and the links are given below…
The National Eligibility Test is going to conduct on 29thDecember by the HRDG-CSIR which is popularly known for Human Resource Development Group – Council of scientific and Industrial Research and their head quarters are located at New Delhi. This year the NET is going to conduct on the month of December and the candidates who are applied for this examination are requested to download their e-Admit cards which are so called as the Hall tickets.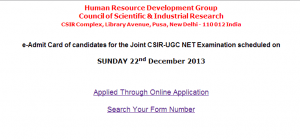 These admit cards will have the information of all the details of the student regarding to their examination and hence the candidates must have to download their e-Admit cards and have to show them at the time of examination and without them they prescribed candidate wont be allowed to write his/her examination. These Hall Tickets or the e-Admit cards are planned or scheduled to give to students on 22nd December.
Downloading the Hall Tickets:
There are two options to download the Admit card. One is for the Online Applied candidates and another is for the off-line which were having the form number as a major identification number.
1.For the Online Applied candidates, they have to give their form number and date of birth to get their hall ticket.
2.The candidates who forget their form numbers can enter their name in the search box and get the details of the form number and also the Hall ticket number. The links for the individuals are shown below.
Download by entering your Form Number (Applied Online) –
Hall tickets